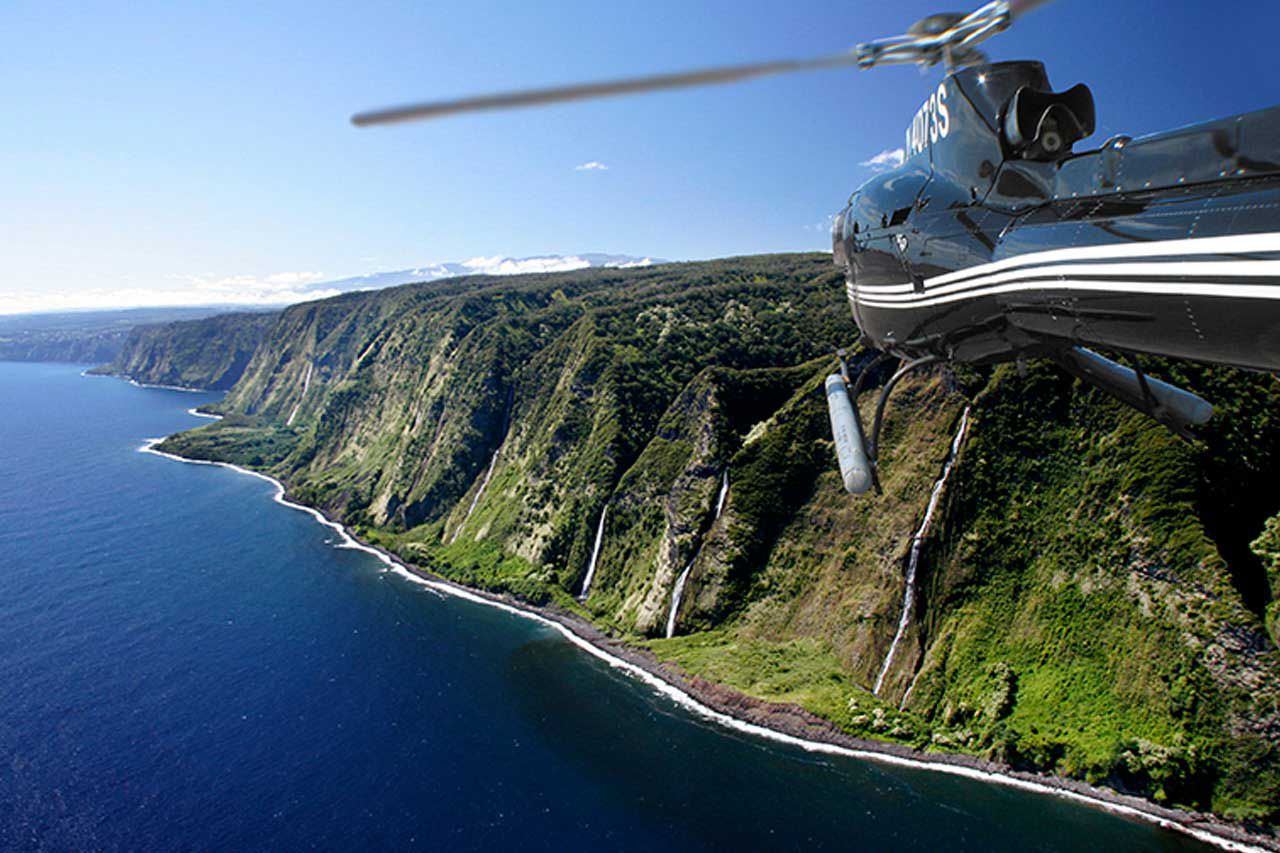 Sunshine Helicopters
To truly experience the beauty of Hawaii, you need to get aerial views! Not just any aerial views, but luxurious, comfy, and panoramic views that you can only get with a helicopter. That's why visitors to the Hawaiian Islands flock to Sunshine Helicopters, a helicopter touring company that offers exclusive and breath-taking views of Hawaii's gorgeous islands at competitive prices. Launched in 1985 by owners Ross and Anna Scott, Sunshine Helicopters from day one was devoted to providing their customers with unforgettable viewing experiences. Tourists and island visitors are drawn to Sunshine Helicopters pristine safety record and ratings, plus their consistent high quality service and highly experienced pilots.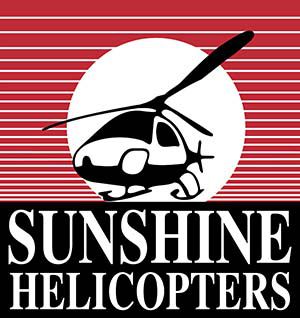 Sunshine Helicopters wanted to provide customers a way to relive their tours and share them with family and friends. So, starting in 1987 they began recording individual tours and offering souvenir videos on VHS. They transitioned to DVD in 2005. Their system was very effective, with multiple cameras providing a large radius of visual area which, from the height of the helicopter, took beautiful high quality shots while also capturing exactly what passengers could see from within the cabin.
Their Problem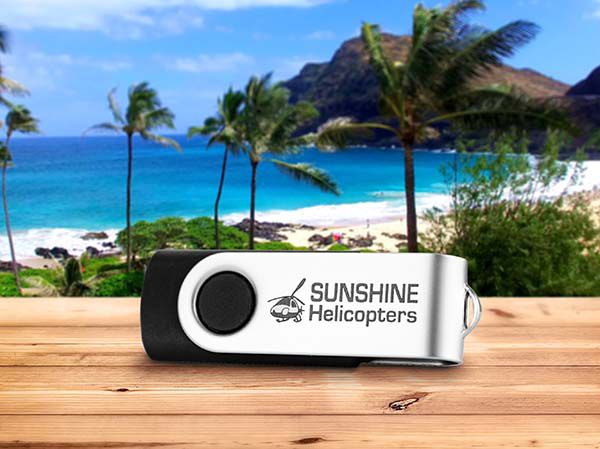 VHS and DVD have unfortunate limitations. It takes a long time to burn a DVD or copy a VHS tape so they are not immediately available post tour. They're bulky and don't always store well. They also cannot attain the high resolution image quality that mimics a visitor's real life experience. When it came time to change to a new delivery system, Sunshine Helicopters gladly adopted USB drives, which offer all the convenience, quick delivery, and high quality imagery demands they have. They transitioned to using 16GB USB drives, personalized with their company logo. Videos and pictures are quickly and easily transferred to the compact flash drives without compromising visual clarity and video resolution. But the supplier and printer they chose constantly let them down with their high prices and poor product quality, which lead to errors that defeated their desire to provide excellent customer service, experiences, and quality merchandise.
Their Solution
This all changed when they hired Premium USB instead to source and print their custom USB drives. Premium USB provided affordable USB drives with company logos that promised (and delivered) top quality performance and printing with pleasant customer service.
Sunshine Helicopters is able to rapidly and reliably transfer and copy in flight video recording with pilot narration onto USB drives and be confident they will perform as intended for their customer's enjoyment.
Premium USB's solid reputation as experts in USB drives plus their excellent product, prices, and customer service drew Sunshine Helicopters' notice. Prior to this contract, they were paying much higher prices for their printed drives that often failed to work.
The ordering process for custom printed USB drives couldn't be simpler either. Sunshine Helicopters gets a quote with the best available price and after approval the order is created and placed via email. A printing proof is provided and then approved. A few weeks later, the products arrive, ready to be used.
Their Results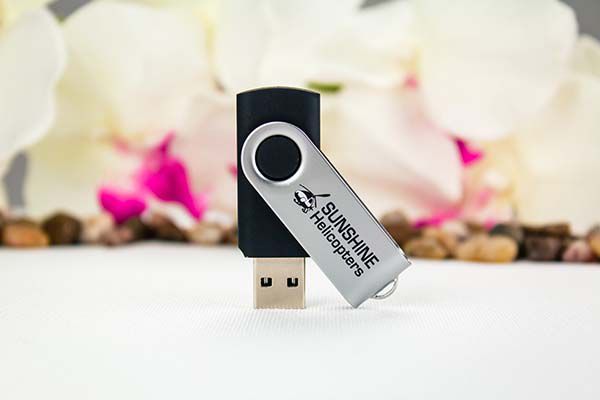 Guests love being able to relive their tours, or show off to friends and family when they get home. Unlike VHS or DVDs, custom USB drives are easy to store, transfer, and use. They can simply plug into almost any USB port with reading capability, which gives customers multi-platform flexibility that they enjoy. The beautifully printed logo and the flash drive's data storage capabilities offer marketing with longevity. With 16GB of storage space, customers can use the ample storage capacity for other data such as more family photos, documents, projects and more, which ensures that the souvenir flash drive will continue to be used and the Sunshine Helicopters brand viewed regularly. Years after their trip, customers will be able to recommend Sunshine Helicopters to friends and family.