Choose USB Speed

Premium USB's SuperSpeed 3.0 Drives offer efficient data transfers - 10 times faster than 2.0 Drives! For maximum efficiency, use USB 3.0 Drives with computers that feature blue PCB ports, specifically designed for USB 3.0.
(USB 3.0 drives start at 8GB)
Product Details
Printing: FREE Silkscreen (FREE 1–Color 2nd Location)
Data: FREE Data Preloading

(up to 100MB)

Shipping: FREE Ground Shipping
Material: Plastic
Drive Colors:
Features: Built in Laser Pointer
Turn Times: Standard in 10 Business Days

Customers remember company gifts and freebies that are fun and practical. The Presenter Laser pointer is a promotional USB drive that fits the bill! Combining a laser pointer and USB flash drive, this item is lots of fun and perfect for advertising your company. You can custom print your logo right on the side of the pen, making sure it's visible each time it's used. The USB drive is protected by a cap and is easily accessible. The drive comes in a variety of colors and storage capacities, as well as up to USB 3.0 transfer speeds!
Imprint Options
Product Size: 95mm x 25mm x 15mm
Print Types: FREE Silkscreen
Imprint Location: Center of USB Drive
Imprint Size: 15mm x 7mm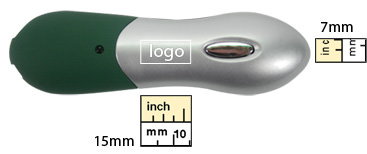 Specifications
Interface Options: Hi-Speed USB 3.0, 2.0 And 1.1
Compatibility: PC/MAC/LINUX compatible
Operating System:s Windows and Mac
Driver: Required only for Windows 98/95
Shock Resistance: 1,000G
Data Retention: Up to 10 years
Warranty: Limited Lifetime Warranty
Time To Order
Before You Order Checklist