Choose USB Speed

Premium USB's SuperSpeed 3.0 Drives offer efficient data transfers - 10 times faster than 2.0 Drives! For maximum efficiency, use USB 3.0 Drives with computers that feature blue PCB ports, specifically designed for USB 3.0.
(USB 3.0 drives start at 8GB)
Product Details
Printing: FREE Silkscreen (FREE 1–Color 2nd Location)
Data: FREE Data Preloading

(up to 100MB)

Shipping: FREE Ground Shipping
Material: Soft PVC
Drive Colors:
Turn Times: Standard in 10 Business Days

Rock your customer's worlds with the Rocker Guitar shaped promotional USB drive. With its iconic shape and fun data storage capabilities, this promotional goodie is a fun giveaway, treat or pseudo-business card to pass out at conventions, sponsored events, and tradeshows. Form and function meet beautifully with the shocking red electric guitar body and hidden USB port. It comes in both USB 2.0 or 3.0 and a wide range of data capacities to make sure you can choose the right one for your target demographic. Your company logo or artwork will look stunning right on the face of the guitar.
Imprint Options
Product Size: 80.5mm x 33mm x 9.7mm
Print Types: FREE Silkscreen
Imprint Location: Front
Imprint Size: 20mm x 6mm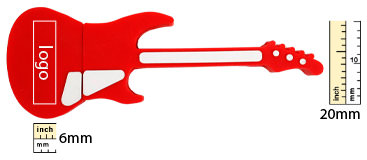 Specifications
Interface Options: Hi-Speed USB 3.0, 2.0 And 1.1
Compatibility: PC/MAC/LINUX compatible
Operating System:s Windows and Mac
Driver: Required only for Windows 98/95
Shock Resistance: 1,000G
Data Retention: Up to 10 years
Warranty: Limited Lifetime Warranty
Time To Order
Before You Order Checklist