Choose USB Speed

Premium USB's SuperSpeed 3.0 Drives offer efficient data transfers - 10 times faster than 2.0 Drives! For maximum efficiency, use USB 3.0 Drives with computers that feature blue PCB ports, specifically designed for USB 3.0.
(USB 3.0 drives start at 8GB)
Product Details
Printing: FREE Full-Color Epoxy Dome Printing
Data: FREE Data Preloading

(up to 100MB)

Shipping: FREE Ground Shipping
Material: ABS Plastic
Drive Colors:
Features: LED Indicator, Large Imprint Area
Turn Times: Standard in 10 Business Days

You know that old saying, "Dress to impress?" Your Custom USB drives are no different: Why have a bland, colorless unit when you can have a bold flash drive that puts the "flash" in flashy? Make your data pop in the Shimmer USB Drive. This Hi-Speed USB drive is a gorgeous piece of data storage technology. This slender drive is made out of ABS plastic. It features a raised dome label on its double-sided print areas, perfect for featuring your logo or brand with the Shimmer's high-gloss look. The drive comes with an LED activity indicator light, so you know when it's powered on or busy. It's compatible with PC, Mac, and Linux. The Shimmer has a shock resistance of 1,000G, up to 10 years of data retention, and a lifetime limited warranty. It has storage capacities ranging from 128MB to 32GB, perfect for storing your documents, videos, music, presentations, pictures, multimedia, and other important files. This branded falsh drive also has a built-in keyring loop, which makes it easy to attach your drive to belt loops, laptop bags, straps, and anywhere else you need it hanging.
Order the Shimmer with free shipping and get it within 10 business days. The Shimmer also comes with FREE Full-Color Epoxy Dome Printing. Your logo or personal brand will really shine once it's printed on the Shimmer's glossy large imprint area!
Imprint Options
Product Size: 55mm x 16mm x 9.5mm
Print Types: FREE Full Color Epoxy Dome Printing
Imprint Location: Front & Back
Imprint Size: 31mm x 13mm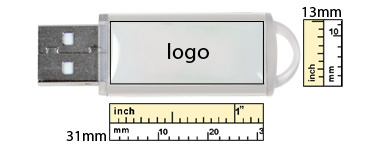 Specifications
Interface Options: Hi-Speed USB 3.0, 2.0 And 1.1
Compatibility: PC/MAC/LINUX compatible
Operating System:s Windows and Mac
Driver: Required only for Windows 98/95
Shock Resistance: 1,000G
Data Retention: Up to 10 years
Warranty: Limited Lifetime Warranty
Time To Order
Before You Order Checklist