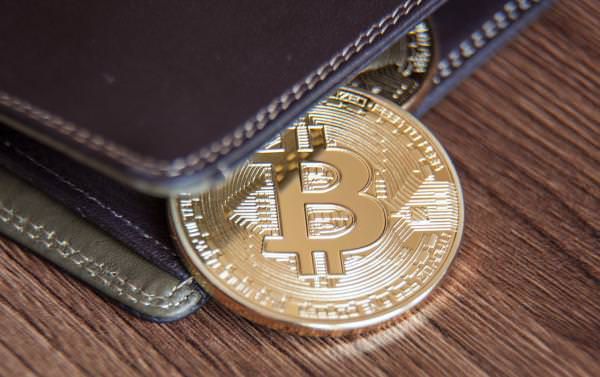 With Cloud technology rapidly overtaking the majority of the USB flash drive's role in data storage, it leaves many wondering if it will go the way of the CD or the Floppy Disk. However, flash drives are rapidly becoming a favorite place to store your cryptocurrency. Acting like a modern day safe, USB flash drives offer secure convenience and peace of mind in today's uncertain market.
USB flash drives are an example of hardware wallets. It actually is storing your keys, or your credentials, which provide access to your Bitcoins (or whatever cryptocurrency you use). This makes it essential that you properly store them to avoid losing your money. You can however create an offline wallet to safely send transactions.
Notable Hacks
Bank heists of old don't hold a candle to modern day cryptocurrency hacks, which often leave companies crippled and unable to recover. Huge amounts of currency have been lifted by hackers since the genesis of Bitcoin. Here are a few major hacks:
August 2010—Bitcoin hack, 184 billion BTC hacked (but was recovered)
March 2014—Mt. Gox exchange, $473 million stolen
January 2015—Bitstamp exchange, $5.1 million stolen
June 2016—DAO (Decentralized Autonomous Organization), $50 million stolen (but recovered)
August 2016—Bitfinex, $72 million stolen
July 2017—Coin Dash, $7 million stolen
July 2017—Veritaseum's Ether wallet, $8 million stolen
July 2017—Parity, $32 million stolen
November 2017: Tether, $30.9 million stolen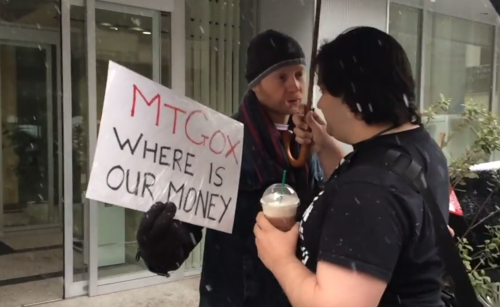 That's a lot of money and since cryptocurrency is not backed by any centralized entity, recovery and compensation isn't usually possible. It is an unfortunate reality that where there is something of value, it will be targeted by opportunistic thieves. Especially in the wilds of the digital expanse of the internet where the typical person is not trained in cyber protection, it is especially important to use available tools to keep your money safe.
Cold Storage Benefits
Like any investment or monetary adventure, there is definitely an element of risk using cryptocurrency. The most prominent issue is, understandably, theft. Most wallet platforms utilize the internet and digital device such as a phone or a desktop computer. These devices are susceptible to a huge assortment of viruses, malware, and bugs. Malicious attacks against your computer's security can and has snatched Bitcoins out of unsuspecting investor's hands. Unlike other federally backed institutions like banks, however, the decentralized nature of cryptocurrency removes the typical system of re-compensation and retribution people come to expect out of banks and other financial entities. All cryptocurrency transactions are final. There is no refund!
The legality of digital currency worldwide is fairly tenuous. The United States considers Bitcoin a virtual currency and therefore legal. However, there is no unified Bitcoin company to mediate and act on the customers behalf. The unregulated, near lawless nature of Bitcoin is an attractive piggy bank to would be scammers.
This also leads to a second problem: privacy. Hackers are drawn to Bitcoin users due to the potential easy access to no holds barred currency and the malware stealing your keys and seed phrase could potentially also leave your data open for those interested in your private details kept on your device. Additionally, Bitcoin is not anonymous. It is considered pseudo-anonymous. Bitcoin addresses are random and not fixed to identity of users. All transactions are kept in the public ledger, meaning anyone can look at them. It is possible to link your transactions to your identity if you repeatedly use the same addresses. Web trackers can leak out highly personal information, such as your name and address, to the wrong places.
Cold storage refers to data storage without access to the internet. Without a doubt, cold storage is the safest and preferred way to store valuable information. Software wallets, such as desktop, mobile, or online platforms, are hot storage. They are vulnerable to attacks due to their connection to the internet. Cold storage devices, such as USB drives, can be used to generate an offline transaction, one simply unplugs their device to send the transaction after reconnecting with the internet. Hot storage means that your currency can be spent at any time. Cold storage is inherently a safer way to conduct business with your cryptocurrency because it allows would be hackers and computer bugs less access to your valuable information.
Hardware storage can also be called air gap devices, because they are isolated from unsecured networks by physical distance. When you're not using your cold storage USB drive, you can simply throw it into a drawer, your closet, a safe, or wherever would be most convenient for you until you need to access your currency again. It should be a place that you won't forget, too!
No method of safekeeping is completely infallible. Even the most secure banks may be pilfered. However, you can do your best to protect your currency by spending a small amount of time protecting your Bitcoin credentials with a USB flash drive wallet.
Other Hardware devices
There are several other hardware device wallets out on the market. The Trezor and the Nano Ledger devices are the most popular, but that popularity comes with a steep price. These gadgets, which perform the same function as a homemade USB drive wallet, cost ten times the average cost for a USB flash drive. Currently retailing for around $100USD, these devices are quite often backlogged and customers are forced to wait until items are restocked and/or experience long shipping delays. Furthermore, they are shipped from Europe and result in additional shipping fees to the United States.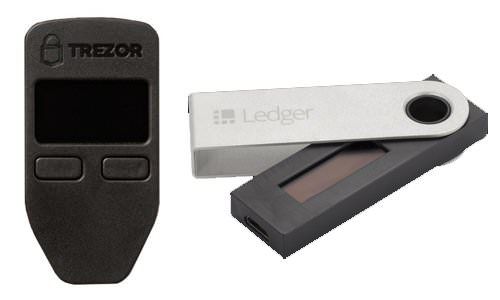 USB Benefits
For casual investors or those who want to start now, a USB drive wallet is an excellent choice to guard against Bitcoin or cryptocurrency theft. USB drive wallets have a number of benefits, primarily security based. They are compact and easy to carry. USB drives are pretty standard with most computers, so you can find compatibility with a large number of devices should you need to take your wallet with you. We recommend, however, that in order to avoid losing or exposing your wallet to theft (cyber and physical), to keep it somewhere safe instead of carrying it around.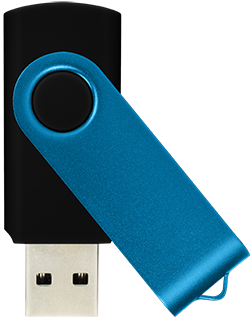 Encryption
If your USB drive is lost, stolen, or damaged, and you do not know your private key, it can be restored using a seed. A seed phrase helps you recover your currency onto a new device or platform; they are 12, 18, or 24 words long. You should always back up all your information for instances like these. Furthermore, USB drives allow you to add extra security of your choosing. USB drives are encryptable, thus provided extra layers of security against would-be spyware and other computer bugs. You can download software of your choice or you can use Window's built in encryption tool, BitLocker, a secure and free option.
Price/Availability
USB flash drives are great vehicles for your wallet. A Bitcoin private key (what you download onto your USB) is 256 bits, which is child's play for any modern USB drive. You don't need to buy a huge 64GB state of the art flash drive. An ordinary, cheap one will do. In general, USB drives are inexpensive and easy to find in stores or online. You likely won't be waiting months for it to arrive, so you can get to storing your Bitcoin wallet now.
Offline Wallet Storage
Finally, USB drives offer the highly attractive potential for creating safe and secure offline wallet storage. Offline wallets allow you to safely send transactions without the internet coming into contact with your privacy key file. An issue with any wallet is the need to access an internet interface to make transactions and manage your coins. However, the offline wallets mitigate this issue by avoiding exposing your important credentials to potential spyware and hackers.
How to set up your (offline) USB Bitcoin wallet using Electrum
To show you how easy it is to protect your Bitcoins, we're going to show you the steps to setting up an offline USB Bitcoin wallet using the most popular wallet, Electrum. Electrum is a light weight program that has been in the game for nearly as long as Bitcoin. It is a trustworthy source (it doesn't control your keys, you do!), free, easy to use, and highly recommended.
To create your own USB wallet:
Install Electrum onto your computer (if you don't have it already).
Prior to installing the wallet onto your USB, shut or turn off your internet connection. You can do this by either unplugging it directly or disabling your connection on your desktop.
Plug in your (unused) USB drive (do not use this USB drive for anything else besides your wallet).
Run the wallet installer and save onto your USB drive. This shouldn't take very long to complete.
Safely eject your USB and reboot your computer.
*Optional step: install an operating system such as Linux to flash drive to help avoid vulnerability to malware
*Optional step: You can duplicate your USB drive for extra security.
To send an offline transaction in this manner, all you have to do is:
Unplug the internet
Plug in your USB drive
Generate a transaction from the private key file
Remove the USB drive
Turn your internet back on
And send your transaction through the internet.
In this way your private key never actually touches the internet, thus strengthening security.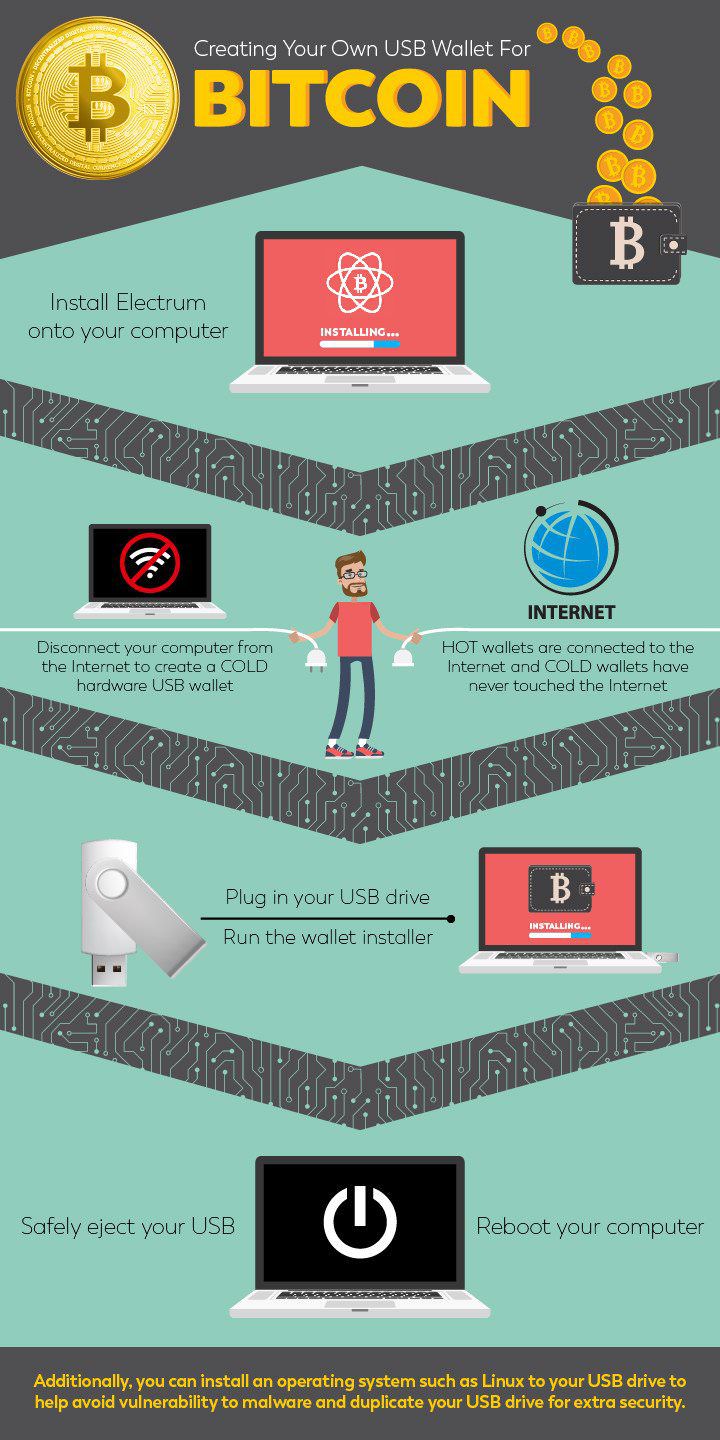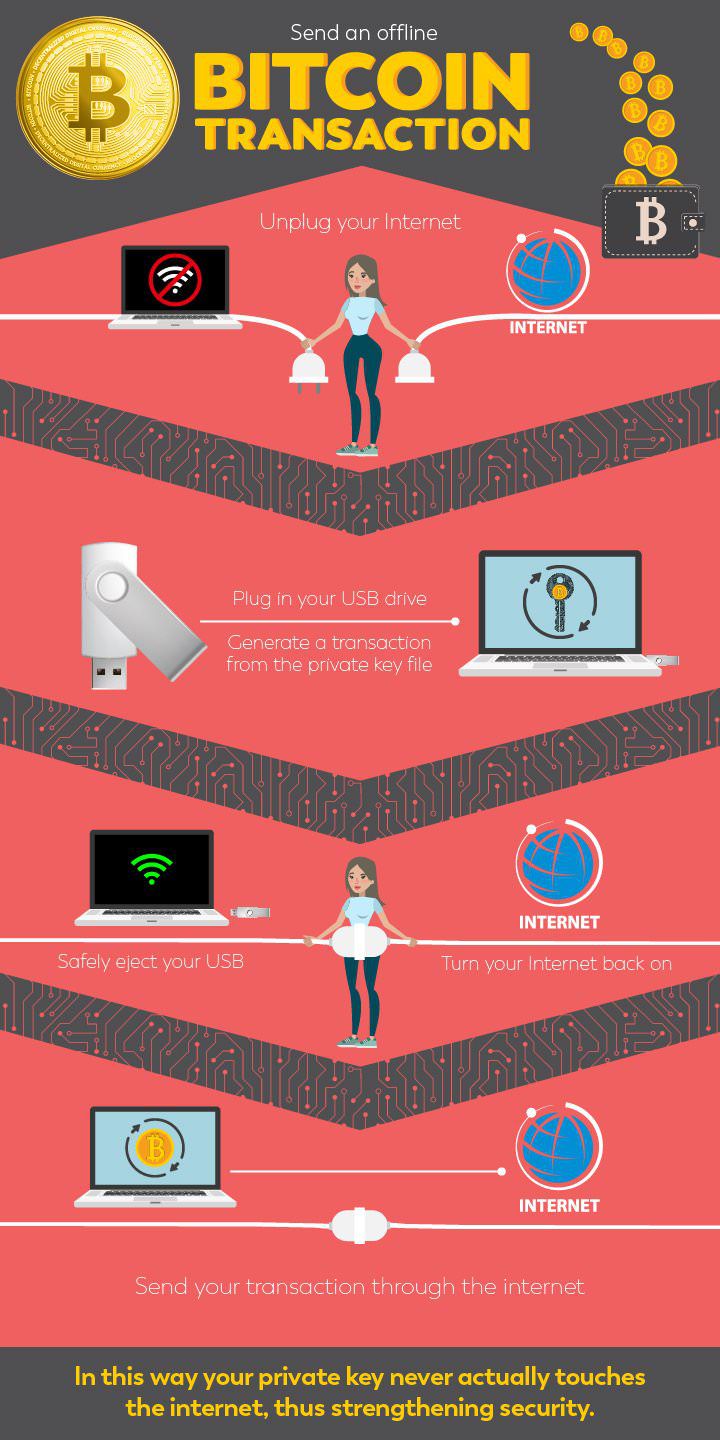 Conclusion
Cryptocurrency is attractive for its multifunctional use and booming market, so it's no wonder it attracts new participants every day. There is no arguing that cold storage hardware is the right way to go in regards to cryptocurrency security. Other methods are constantly exposed to hacking attempts and cyber attacks which put your currency in jeopardy. Luckily, the USB drive, a device people thought would be rendered useless by Cloud technology, has the flexibility and utility to serve as a protective hardware cold storage. USB wallets are inexpensive, easily available at most stores or online vendors, conveniently sized and highly transportable, and inconspicuous enough to mask their important load. They are superior to other hardware devices available because they are widely available and purchased at minimal expense without long wait times or expensive shipping fees, all while performing the same function. Due to their size, they can easily and safely are put away in a drawer or closet until you need to access your Bitcoins. Savvy, wise investors know that their money is only as safe as the third party companies they use can make them, so it's important to utilize other mechanisms for increasing security and safety of your investments. The mantra of cryptocurrency is: Diversify your assets, secure your key (outside of a third party), and use a hardware device like a USB wallet.