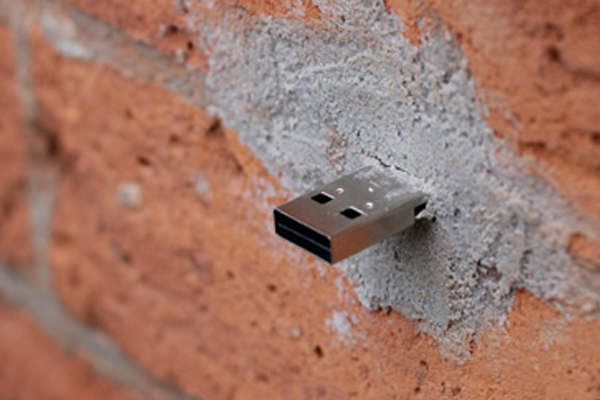 Peer to peer file-sharing takes a bizarre twist thanks to USB technology, moving from its usual online forum to brick walls, subway stations and riverside walks. Artist Aram Bartholl is merging art and science with his living, breathing installation project dubbed with the spy-like title, "Dead Drops."
With a little help from basic hardware store supplies like putty, spackle and cement, Bartholl embeds USB flash drives into random public locations such as "walls, buildings and curbs." Anyone with a laptop or compatible, portable USB device is invited to drop and share files from the built-in thumb drives. Bartholl says each drive contains a txt file with extra specs for users on how the project works.
Currently there are just five USB stick Dead Drop locations, all in New York City and primarily placed in the areas of Brooklyn and Manhattan. The artist has ambitious plans to expand the project to more locations in more cities.
In a technological utopia, this concept in its purest form seems like a winner. What could be better than the exchange of new, exciting art, music, films and other share-worthy files with like-minded flash drive users? The free and multiple public locations only enhance the project's appeal and could be used to highlight the geographical area where the flash drive is located. It could also serve as an alternative P2P solution following the shutdown of services like LimeWire.
However, in its real world setting, the USB Dead Drops could quickly fall flat due to an array of potential problems. These public flash drives could be an open invitation for unsavory as well as unknowing users to spread a harmful, citywide digital outbreak. Users could potentially pack the USB drives with viruses, Trojans and spyware. It would take conscientious users loading their USB sticks with the most up-to-date security and virus protection to prevent attacks. Users may also have to contend with inappropriate or adult content, which cannot necessarily be filtered by anti-malware measures.
The idea of a physical yet anonymous network that reinvents file sharing is certainly a very cool and novel idea. It will be interesting to track how the durability of the drives and the viability of the Dead Drops as a safe P2P solution will hold up. Here's to hoping it can defy its risk-prone kinks and come to a city near you. If you do in fact use one of the Bartholl's embedded drives however, I'd bring an extra USB cable for better ease of use.
Are you impressed with how Bartholl is using USB flash drives? What works and what doesn't about his idea? Even better, are you in the NYC area and have tried it out? Sound off!