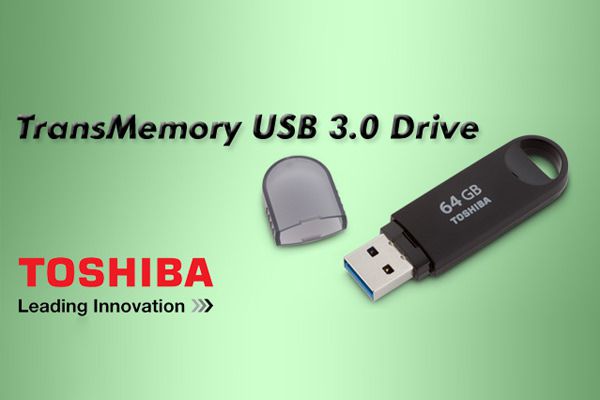 Toshiba is a major player in the NAND flash memory market. Recently, they announced a new line of TransMemory® drives that boasts some serious speeds.
With read speeds of 222 MB/s and write speeds of 205 MB/s, the TransMemory drives take full advantage of USB 3.0's incredible transfer speeds. At this rate, copying large files such as games, music, photos, and system backups will take a lot less time than ever before.
But there's more to the TransMemory 3.0 drives than just speed – they also offer large capacities for storing huge volumes of data. Available in 64GB and 128GB capacities, this family of drives offers big storage in addition to speedy performance.
These drives have a durable, highly functional design that includes an oversize keyloop for attaching to a keyring or lanyard. In addition to their exterior protection, the drives also keep your data secure with built-in security software and encrypted password protection. This will protect your important files in case the drive should fall into the wrong hands.
Maciek Brzeski, VP of Product Marketing and Development for Toshiba, had this to say about the new TransMemory 3.0 drives:
"Featuring the best performance, highest speed, and largest capacity of any Toshiba USB flash drive to date, this storage device offers blazing fast data transfers while ensuring that all digital information is securely protected."
64GB drives retail for $129.99 MSRP while the larger 128GB drive goes for $199.99 MSRP. Each drive is compatible with both PC and Mac and is backed by Toshiba's impressive 5-Year Standard Limited Warranty!