Information on Custom Shaped USB Drives
When it comes to creative marketing, nothing gets the message across like a custom shaped USB drive. Don't limit yourself to traditional stick-shaped drives when you could have any shape you like!
Design Your Own USB Drive
Imagine the possibilities: a wine bottle shaped drive for a vineyard, a tire-shaped drive for a car dealership or repair center, the list goes on and on! We can create almost any design you desire. Choose from a 2-D or 3-D shape with custom printing for a truly unique product that will leave a lasting impression.
With a custom shaped USB drive, you can instantly communicate the nature of your business when you distribute product and company information. Give a custom USB to your customers, clients, and vendors! Distribute them to employees, shareholders, or hand them out at trade shows. Companies that use custom shaped USB drives send the message that they are on the cutting edge of technology, and not afraid to do something new and innovative.
For a unique and eye-catching solution, consider ordering a custom shaped USB drive for your next promotion! The expert staff at PremiumUSB specializes in USB drive products and services. Call a friendly sales associate today to request more information about custom USB drives and how they can help your organization.
4 Easy Steps to your own Custom Shape USB!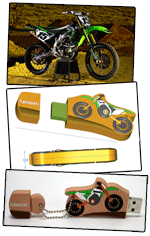 1. Your Idea or Inspiration:
Find a photo or do stick-drawing sketch of what your idea is for the drive.
2. Contact Us: Get a custom quote for your shaped usb based off your idea.
3. Our Illustrated Drawing: We will render dimensional illustrations with detail of the drive.
4. Production: After you approve your illustration we produce the custom molded and mass produce your custom usb shaped drives.
Molded PVC:
starting at $199*
*Price is minimum mold shaping cost and may vary depending on complexity of design.
Call now for your custom shape USB Quote at 877.992.3766
or request a quote online!