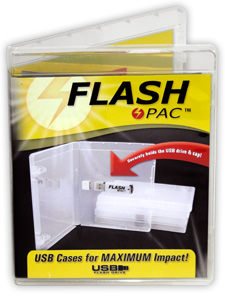 Introducing the Flash Pac™ case: the world's only plastic snap-case made especially for USB flash drives. Count on the Flash Pac™ to securely deliver a standard sized USB drive to your audience in style.
What makes the Flash Pac™ case unique is its integrated dock that holds a USB drive and cap securely in place. There are also plastic clips inside the case for holding printed materials such as booklets and inserts. This can provide your audience with additional information about your company, organization, or product.
On the outside, the Flash Pac™ case features a vinyl sleeve for holding a printed entrapment. This provides a huge printable area for your custom graphics, logos, and text. Get maximum exposure for your brand both inside and outside with plenty of room for printed materials in addition to your USB flash drive.
The Flash Pac™ case is perfect for mailing, handing out, and retail store displays and shelves. Its standard size dimensions make it compatible with existing shrink wrap equipment and spine labels for convenience during production. For an eye-catching solution to distributing USB flash drives, the Flash Pac™ case is hard to beat.