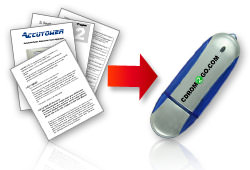 It doesn't matter if you need 10 MB or 1,000 MB loaded on to your USB drives, we will take care of it! Before you send us your data, PLEASE remember to test and re-test your content on a USB drive to make sure it functions properly.
We recommend trying several different computers or devices to ensure maximum compatibility. We cannot test the functionality of your data; but we can verify that the file and data sizes match what was submitted to us.
If you have data that you need preloaded, you can send it to us electronically. Simply compress ALL of your content into a ZIP file and send it to us through our online File Upload Form. If you are having trouble using the File Upload form, contact your account representative for our FTP account information as an alternate method.
Please be aware that USB drives are different from traditional CDs and DVDs in many respects. You cannot place uncompressed Audio CDs on USBs. A better option would to convert the music files into MP3 format. Also, you cannot place DVD-VIDEO on USBs. Please convert the video into a compressed format such as a QuickTime Movie or Windows Media Video file.
Lastly, traditional autoruns work differently on a USB drive. Ask your account representative about our custom autoruns, menus, and other USB data services.