What is Inside a USB Drive?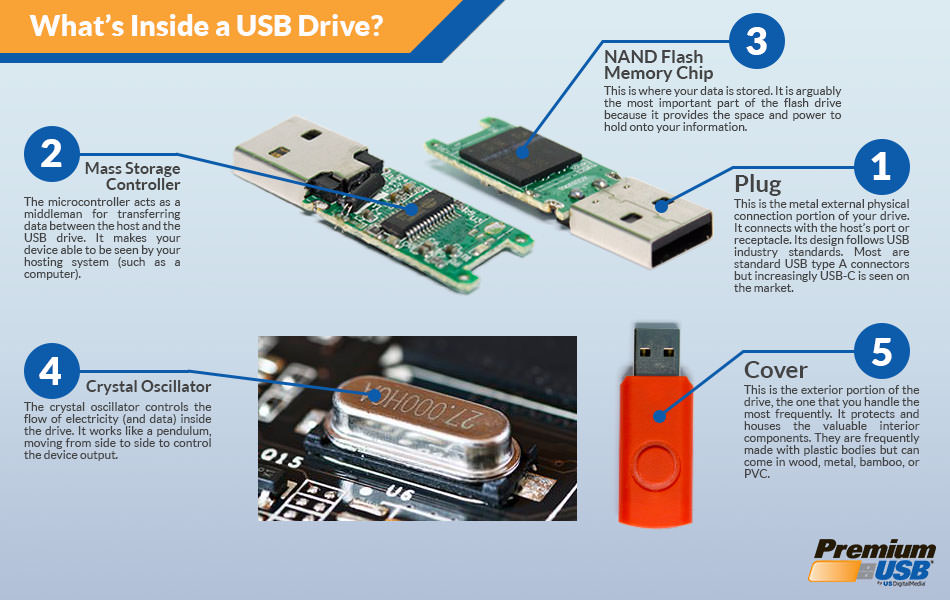 A USB Drive is made up of five components:
Plug - This is the metal external physical connection portion of your drive. It connects with the host's port or receptacle. Its design follows USB industry standards. Most are standard USB type A connectors but increasingly USB-C is seen on the market.
Mass Storage Controller - The microcontroller acts as a middleman for transferring data between the host and the USB drive. It makes your device able to be seen by your hosting system (such as a computer).
NAND Flash Memory Chip - This is where your data is stored. It is arguably the most important part of the flash drive because it provides the space and power to hold onto your information.
Crystal Oscillator - The crystal oscillator controls the flow of electricity (and data) inside the drive. It works like a pendulum, moving from side to side to control the device output.
Cover - This is the exterior portion of the drive, the one that you handle the most frequently. It protects and houses the valuable interior components. They are frequently made with plastic bodies but can come in wood, metal, bamboo, or PVC.