You use your USB flash drive to transfer files across a number of computers and that makes it vulnerable to viruses and malware. You can never be too careful with your USB flash drive's security. There is always the risk that a virus from an infected computer can transfer to your flash drive within seconds of you connecting your flash drive. We are often very protective of our computers, employing security features to protect them from viruses and malware from external devices.
However, we don't always take the same precautions with other tech devices, like custom USB flash drives, to protect against transferring dirty data from one computer to another. There is always the potential to lose important data on your flash drive due to a malware attack. As well as the possibility of your flash drive ending up in the wrong hands. We discussed some methods for USB flash drive security in previous post, but you should always be employing one of the following hardware and software security features to protect your USB flash drives.
Software Security Features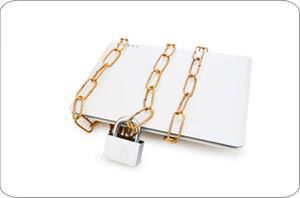 1. Write Protectors
If your USB flash drive does not feature a hardware switch for write protection, you should be installing a software based write protector such as the USB Write Protect which is efficient at preventing deletion of data as well as malware getting written onto your flash drives.
2. USB Anti-Virus
While your flash drive is protected while the write protection is enabled, there is a possibility of your device getting infected while you try to transfer files. Therefore, it is always a good idea to install a good anti-virus such as the ClamWin to defend your flash drives.
3. Software Encryption
If you are concerned of your privacy and would like to secure your data, download and install a software encryption program such as TrueCrypt (Discontinued May 2014) or Windows BitLocker to encrypt your flash drives with a unique password. It will make it hard for someone to access your data even if they had access to your device.
4. Computer Protection
Perhaps your USB stick gets infected unknowingly. The best thing in this scenario is software that will instantly detect and inform you if a USB is inserted with a malicious program. USB Firewall will protect your computer if any malicious program tries to launch itself from your USB drive. Once installed, USB Firewall runs behind the scenes, only popping up if it finds a virus or bad program.
Hardware Security Features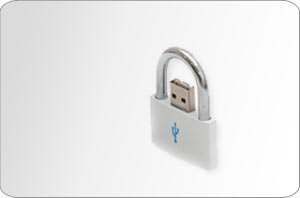 1. Keypad Flash Drive Option
Some flash drives come with a keypad allowing you to create a unique passwords which would make a physical lock like feature. The flash drive would be operable only after putting in the right password. Flash drives such as Transcend JetFlash 220 now come with Biometric encryption.
2. Self-Destruct Features
Flash drives like the Ironkey self destruct once the user enters a certain number of wrong passwords or someone tries to physically breach the security. Fujitsu makes a flash drive called the Tamatebako which you can configure to automatically erase files after a certain timeframe. These features provide the highest level of hardware security to your flash drives.
3. Hardware Encryption
If you really serious about data security on your flash drives, you could opt for a USB flash drive like the IronKey which comes with a 128-but AES hardware encryption. Hardware encryption is superior to software encryption since software encryption carries with it the risk of getting hacked.
Make sure you run a check with a USB flash drive diagnostic tool, which we posted about previously.
What programs work to protect your USB from transferring viruses?