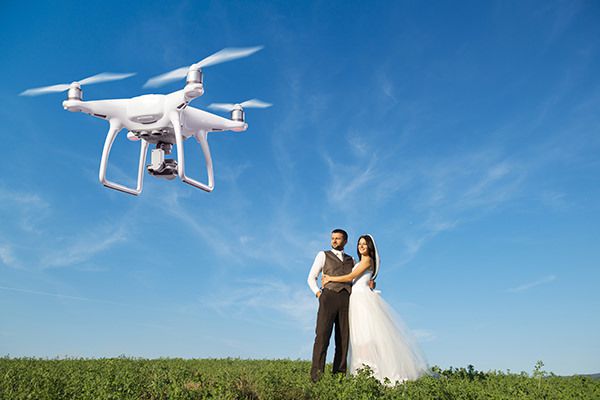 It's a tale old as time: two people joining together to make a life long promise to each other. It's so romantic. The rituals of a wedding are as varied as can possibly be, but they always are subject to the tides of what's popular and trending. The universally constant desire to build your most romantic day around other's ideas is a boon to the wedding industry. It's a new year and a new wedding vibe is in the air. Not surprisingly, the tone is highly advanced, electronic, digital, and personalized. It has moved far away from stuffy, generic paper ornaments and become a more customized, relaxed, and intimate ritual.
So, here are the biggest, most exciting modern wedding trends you can expect to see and participate in for 2019:
Documentary/Report Style Photography
If you've ever had to snap photo after photo of the bridal party and a million family members in carefully placed poses or arrangements, you'll be happy to hear that this has gone the way of the dinosaur. Candid, natural shots are now preferred that really capture emotions. Of course, some posed shots are still expected, but by and large brides and grooms want everything to feel and look naturally. Thanks to digital proofs and sharing, it's possible for clients to capture the very essence of those moments years later while swiping through their digital albums. In the same vein, many brides and grooms are now demanding a second photographer. With the advent of the digitally social age, it's no surprise that clients now want to make sure every vantage point is covered. It's now becoming more common to see multiple professional shooters covering the same wedding to ensure everything is caught.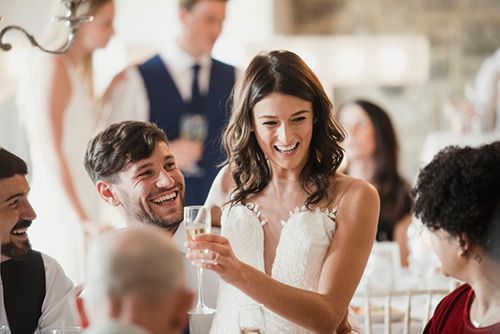 Clients want documentation, actual representation. And they want to be able to view all those moments over and over again.
Save the Dates and RSVP Return (Yes, It's All Digital)
Despite the increasing reliance on the digital realm to perform basic activities and tasks, the paper wedding invite still remains a tried and true wedding expectation. However, all that paper product plus the cost of shipping and stamps really adds up, and a lot of brides are turning to the internet to save money. Specifically, they're sending their "save the date" cards. This actually is very helpful in keeping a tally of RSVP lists and effectively sending out the appropriate number of invites. You can even get a "maybe" list going so you know where everyone stands (or doesn't). No stamp licking; no painstakingly handwritten envelopes with lengthy addresses.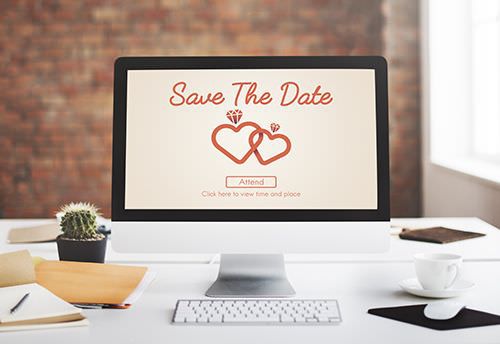 On that same note, many are turning to QR codes to help simplify checking in. Normally, waiting to receive a paper RSVP ballot can take forever. So much can go wrong: it can get lost, the address was copied out incorrectly, instructions for RSVP'ing and how many are unclear and you end up with a dozen unexpected/uninvited guests. It's far simpler to include a QR code, scan it once, and be done!
Social Media Yes/No
You were certain to see this category here and you were right to expect it. Social media has become a pillar of socialization and its inclusion in weddings is not surprising. However, social media does not have a blanket invite. Many brides and grooms are asking their guests to abstain from posting pictures and updates on social media until the day after, giving them even more control of their special day and its memories. In fact, it's becoming common practice to ask guests to not use their phones or tablets at all during the festivities and ceremony. This is great for photographers who don't have to fight with an entire wedding guest list to get the picture that you're…you know, paid to snap!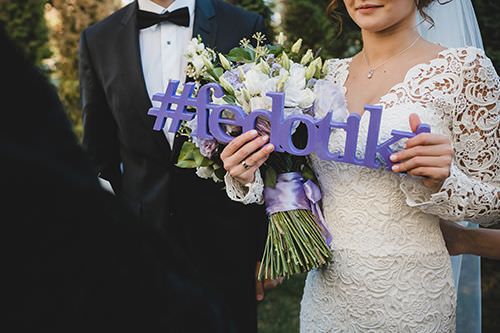 On the other hand, many are now embracing social media's presence by encouraging their guests to utilize their wedding hashtag and social media platforms to actively participate in making memories. Using the hashtags, guests can upload photos they've snapped with their phones to Twitter that are made available for later. There are other apps that perform this same function. The digital availability of these snapshots makes it easy to assort them into wedding albums, calendars, scrapbooks, and other intimate collections using candid, in the present shots. These can be stored on the cloud or assembled into wedding albums stored on special wedding USB drives, either by the bride and groom or by the photographer.
Some people are even stepping it up even further by offering photo booths that directly connect to social media platforms like Facebook and Instagram. Selfie sticks can be found available for guest use at photobooth tables. Others are offering mobile phone charging stations to keep guests charged up and posting.
Wearable Tech
Not sure how big this is going to get, but some brides really want to relive their special days with wearable technology that tracks movement and heart rate. A simple Fitbit or other high end watch type gadget should do the job just perfectly, helped by the fact that watches and other wearable gear come in a variety of colors and finishes, ensuring nothing clashes in the photos.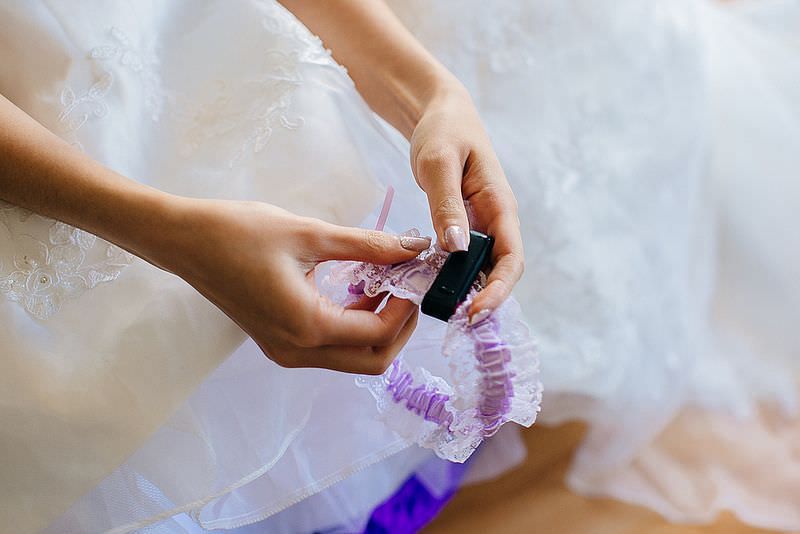 If that isn't far fetched enough, there are projection wedding rings that can project wedding images onto solid surfaces, allowing the happy couple to carry treasured images anywhere they go.
Drones & Go Pros
They're not just a toy fad; drones are becoming a must have tool for the adventurous bride and groom. The trend now is to get sky high photos of the entire wedding party, a dynamic and all-encompassing view, something completely different from static on the ground shots. This trend is great for photographers looking to express themselves and the personalities of their clients because it gives them the freedom to experiment with a lot of factors.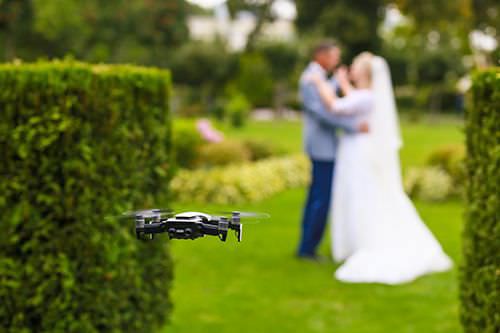 Of course, using drones requires a higher caliber of cameras which ends up raising prices for this type of photography a little bit. Overall though, everyone seems happy with this fun trend.
Another quirky idea is to use a Go Pro type camera stashed in the wedding bouquet. This could lead to some charming shots, like the groom's first glimpse of the bride, up close vows, or down the aisle shots. Or, at least one really awesome one at the flower toss. Dynamic and realistic, un-posed pics are the name of the game.
3D Printed Goodies
3D printers are now becoming mainstream equipment and their possibilities are endless. From favors, decorations, cake toppers, and…cakes? 3D printed wedding cake decorations are slated to be the next huge must have item for weddings in 2019. They can create some astoundingly beautiful effects not possible (or cost efficient!) with traditional baking and decorating methods.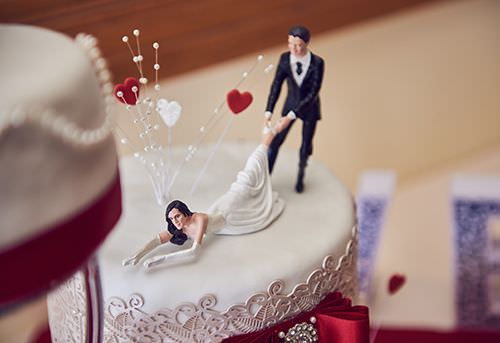 3D printed offerings are the perfect solution for the increasing personalization that modern weddings are embracing. If brides want custom printed candies in the shape of their adorable groom as a favor, they can now do so. Groom wants an architecturally stunning cake without all the fondant? It can be done now, too.
USB Albums
And we end with the biggest contribution a wedding photographer can make: the wedding album. Gone are the days of ugly, heavy leather-bound albums with plastic displays that rip, tear, fog, and stick. But clients don't want an impersonal email with a link that says, "Here are your photos. Congratulations!" either. Instead, photographers are packaging wedding photos in wedding USB drives which can be custom printed with initials, monograms, insignias, or other logo designs.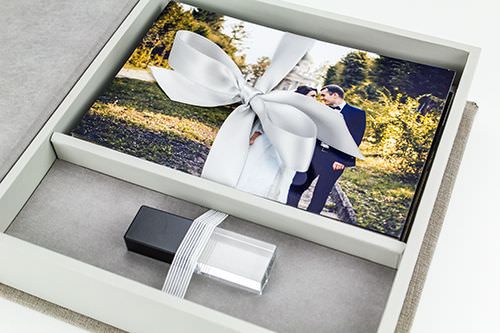 They come in a variety of pretty and elegant drive shapes and materials and hold a sizable cache of video and images. Drives are great options for photo delivery because they offer easy digital access to files without needing the internet, providing convenience while also giving clients a "physical" deliverable, a real feeling. They're also economical and can be purchased in bulk. They are easy to package in wedding and photo boxes which can also be custom printed, are available in a variety of styles and materials, and can really elevated delivery.