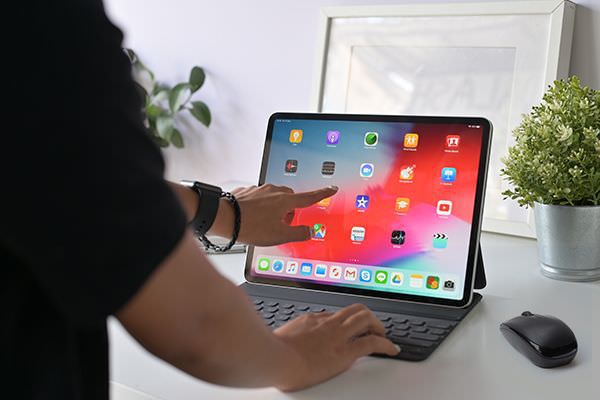 Late last year Apple introduced their newest iPad Pro which notably featured powerful specs, no home button, and a USB-C port in lieu of their Lightning port. Apple has not made it any kind of secret that they intend for their line of tablets to become the next step in desktop computers. Meaning, they intend for iPads to completely replace desktop options. This is apparent in the new iPad Pro's webpage: "Like a computer. Unlike any computer." And later down the page: "It works like a computer. And in ways most computers can't." You don't need advertising to drive this home though when you consider the impressive list of specs made available: the A12X Bionic chip which runs at 5 trillion operations per second, high speed graphics, double cameras, sleek exterior design, increased audio capability, and a choice of two sizes (either an 11 or 12.9" screen). In many ways, the iPad Pro works better than a desktop computer.
Tablets have a major flaw when it comes to user experience: lack of a comfortable selection tool, such as a mouse. Unfortunately, iPads are not compatible with most mouse software. There simply isn't the programming necessary to indicate a cursor on the primarily touch pad interface. There are accessories like trackballs and joysticks using Assistive Touch. You can try using a BTC Mouse and trackpad as it seems to work for most users however it's a real bummer you can't customize your tablet experience to the working conditions you prefer. It is an obstacle for turning to the iPad completely as a workhorse.
Now, however, there is a strong rumor floating around the internet that iOS 13 will include support for a mouse. It was started on the Connected podcast by MacStories' Federico Viticci but was later essentially confirmed with Steve Troughton-Smith, a developer, who stated that the project is "indeed in the works." If true, then it is likely that this development is related to another project of Apple's, called Marzipan. Marzipan is meant to smooth the connection between the iOS and macOS better than before and it would require mouse input.
If Apple is in fact trying to craft tablets that appeal to users as a workable alternative to desktops, then it's no wonder they might be trying to add proper mouse and cursor software. The portability and tactile operation of tablets is a great draw but the inability to utilize precise selection tools is a great obstacle. However, the introduction of the USB-C port may make adding peripherals like a mouse easier and more accessible, as it potentially enables consumers to pair non-Apple products with their iPads.
Perhaps don't get to excited though, because Federico Viticci noted that he heard the rumor months ago so it's up in the air whether this feature will be available with the iOS 13. Also, it's unlikely to be a complete interface makeover in that the mouse will be available as an accessibility feature only. Still, it's another step in the right direct for the iPad Pro fanbase who will be overjoyed at experiencing its tremendous speed and power in another way.