Custom printed USB drives are created when a blank surface of the drive's outer case employs a printing, engraving or embossing technique to render a unique logo, title, name or design for promotional or personal function. The custom technique that is used heavily depends on the surface material of the case as well as the desired look that one is trying to achieve. Plastic, metal and wood are the most common surfaces.

What can you do with a custom printed USB drive?
The primary applications for custom printed flash drives include marketing distribution as souvenirs, trade show giveaways and overall free product incentive. Personalized thumb drives are also implemented for catalogs, software and educational institutions. Undoubtedly, there are no limits to their applications.
Silkscreen Printing
One common printing technique used on custom flash drives is silkscreening. It works by imprinting design or text onto the drive through the use of ink smoothed over a stenciled screen. A light-sensitive photographic suspension left open to light rays assist to properly press the ink through the screen in desired areas. Silkscreen printing is completed via ink layer by ink layer or color by color. It is important for the ink to dry between layers to prevent smudging and allocate adhesion to take full effect. This technique works best for simple vector designs and text.
4-Color Printing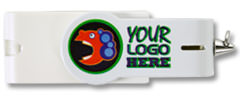 A four color CMYK ink process (c for cyan, m for magenta, y for yellow and k for black) provides millions of color variables for personalized USB design possibilities. Dye sublimation is one printing method used to produce photorealistic prints on USB drives. An ink dye acts as either a solid or a gas to transfer the dye from the printing equipment's plates to the case's surface. Heat and pressure combine to assist the diffusion of the ink dye onto the case. This technique also functions color by color, and in this case, four times to complete the CMYK color palette. A glossy lacquer is then applied over the inked surface to prevent smudging.
Laser Engraving
Laser etching is a custom USB drive technique that employs a laser beam from advanced etching equipment that moves precisely over the case's surface to carve a design. Personalized USB artwork is submitted to professional services via a vector file, which works in combination with design software and laser machinery. Laser engraving creates a permanent impression on compatible surfaces like wood, metal or leather.
Stamping and Embossing


Foil stamping uses foil and other metallic materials that physically stamp a case's surface by using a reversed press of the design (much like an ink stamp). Surfaces like vinyl, leather and even paper work well with this technique. Debossing also uses a similar concept of plates or dies imprinted with the logo stamped into the surface, but there is no foil involved. Instead, the use of heat provides the textured impression on the customized USB drive through the use of brass, copper or magnesium on the dies.
Embossing a custom flash drive case involves using a set of dies to apply pressure as well except along with the metal die, there is a counter die. These two dies squeeze together to raise the flash drive case material with heat and pressure to create the design. The result is a raised effect as opposed to an inverted effect with debossing.
Epoxy Dome Printing
An alternative technique combines both printing and some shaping of a personalized flash drive—it's known as an epoxy dome printing. A dome of hard, clear resin is set over a high-resolution print design. The dome magnifies the design to create a visual illusion that the printable surface is larger than it appears. Customized epoxy dome USBs also can enhance the durability of a flash drive because it acts as an additional layer of protection to safeguard the core of the device.