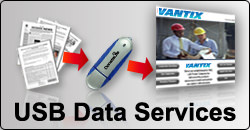 Q: What kind of USB data services do you offer?
A: We offer a full line of data services including: preloading, auto run, and auto menu, non-erasable content, and more! Please call for details.
Q: Can you put my files on a USB Flash Drive?
A: Yes, we can put all your files onto a USB Flash Drive using what we call our Data Preloading Service. Simply supply Premium USB with your information and we will make sure that your information gets on your flash drives. This Data Preloading service is FREE and included in all our service packages upon your request.
Q: Can you make my files non-erasable?
A: Yes we can prevent someone from deleting your files using our Data Lock Service. With this service, we are able to lock down the files of your choosing onto the USB drive so that they become undeletable. Most of our USB flash drives can be data locked and this service is great for any promotional campaign.
Q: What Special Features can I add to my USB Flash Drives?
A: At Premium USB we are able to create and attach custom menus, backgrounds, links, logo splash screens, custom icons, and much more to your custom USB project using our Auto Launch service. With our Auto Launch Service, we can create a standardized splash and menu screen or we can create a totally interactive experience; it all depends on your particular needs and how much customization you require. We are also able to attach your audio and video files to a splash screen and menu, or have it autoplay automatically when the USB drive is connected to a computer. For more information, visit our USB Auto Launch section.
Q: How do I send in my data files?
A: The easiest way to submit your data is with our Online File Upload, but we can also accept data files sent in on disc, USB drive, or via FTP.