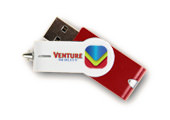 Express Service Printing
We request that your artwork be in a vector format for highest quality print results. Vector artwork files are typically created in Programs such as Illustrator or CorelDraw and saved in formats such as EPS, AI or PDF. We are also able to accept high resolution images for printing on certain Express Service drives in formats such as JPG, TIF, PSD or PNG. Please submit your logo and our designers will set up the size and imprint locations in a virtual sample at best fit. If you would like to preview your logo on multiple drives before you place your order, request a virtual sample proof.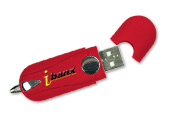 Silkscreen Printing (Standard Service Only)
Vector logos (in EPS, AI or PDF formats) detailed in up to six Pantone spot colors are required. If you do not know what Pantone color you would like, refer to a Pantone Matching System swatch book, or one of our designers can choose the closest spot color.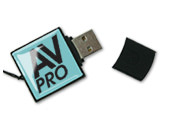 Epoxy Dome Printing
Vector logos (in EPS, AI or PDF formats) in CMYK Process color printing are acceptable. Domed drives are then coated with clear epoxy after your logo is printed.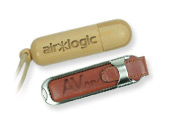 Laser Engraving and Heat Stamping
Vector logos (in EPS, AI or PDF formats) are required. Logos must be saved as a monochromatic solid color. Any fine lines must be at least .04 pt or thicker to engrave.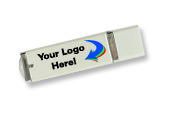 Submit your Logo
Send us your artwork using our Artwork Upload form. You can also email small logo files or requested text (under 2MB only please) to your sales representative. Virtual proofs will be sent via email for approval once your order has been placed.
If you cannot create vector files, our design team can re-create your logo as a vector for best print quality (fees may apply). If you do not have access to any of the above, contact your account representative for custom design options or text layout options.