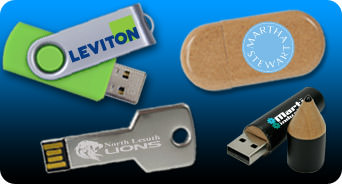 How do I get started?
There's no reason to feel overwhelmed! We recommend taking a look at our USB Buyer's Guide for some help with your custom USB project.
Do you offer Express Service?
Yes, we have expedited turn-times available on many USB drives. Get them in your hands in as little as 24 hours!
How do I get started on a Custom USB Flash Drive Quote/Order?
The first thing you should to get started is familiarize yourself with Premium USB products and services. All of our Products contain relevant information and can help you in deciding which product is right for you. Once you have found what you are looking for or have any questions about a particular product, request a USB quote and a representative will get back to you shortly.
If you need help deciding on what particular USB drive would work best for you, give an account representative a call and tell them a few things about your project. Once we know a little more about your project, we can use our years of experience and help you decide on a flash drive that will be a best fit. We can help you find the right memory size, color, body style, material, and print process to best fit your project. If you have any questions, we will be more than glad to answer them.
How long will it take to get a custom quote?
You can expect a reply to an email by the next business day. If you call and speak to a sales rep you can get your quote even sooner.
What USB Drive accessories do you have?
We offer a full selection of USB accessories including retail packaging, gift packaging, key rings, lanyards, and more!
What options are available for packaging?
We offer a wide variety of packaging options such as tins, magnetic boxes, gift boxes, and retail-ready boxes. If you prefer to do your own packaging, we also offer bulk shipment as an option.
Can I get the packaging custom printed?
Absolutely! Our cardboard packages can be custom printed with your organization's information. We can provide retail packaging with custom printed inserts, or print on the box itself!
What printing options do you have for custom USB drives?
Premium USB offers a wide variety of printing options and depending on the product you choose, the printing options vary. We offer PhotoPro, laser engraving, color printing, heat stamping, and blank unbranded drives. Visit our Printing Options page to learn more about the individual printing processes.
*Note: Printing area/location varies depending on the USB drive you choose.
What do I do once I have placed my order?
We will need your artwork and data content to begin your order. Once your artwork virtual proof has been approved production of your order will begin and that is considered day 0 of your turn time
How do I send in my artwork?
The easiest way to submit your artwork is with our Online File Upload, but we can also accept artwork sent in on disc or via email if under 5MB, or by FTP.
What are the Logo artwork requirements?
For the best print quality please send us your logos in vector (.EPS) outline format. For simple text placement just email your account representative the text you would like and we can do set-up. See our artwork requirements for more information.
What is a Virtual Proof?
A virtual proof is a computer-generated picture of what your drive will look like when completed. By approving a proof through email, we can get the ball rolling on your project faster than waiting for a proof to go through the mail.
What if my artwork needs adjustments?
Our in-house graphic designers are here to make sure your artwork comes out exactly as intended. They can assist with any adjustments and changes necessary to make a quality product.
What options are available for proofs?
Each order includes a digital virtual proof sent via email for layout. Physical proofs may be available at request, fees may apply.
How long will it take to get my order?
Depending on the drive most orders are shipped in 3-5 business days, or 10-14 business days. Express Service orders can be ready in as little as 24 hours on specific drives.
What types of materials can be used?
At Premium USB, we offer a wide range of custom flash drive materials. Our USB drives come in hard plastic, metal, wood, leather, bamboo, aluminum, PVC plastic, and much more. Custom Shaped USB Flash Drives are available, and can be made from a wide variety of materials as well.
Are there Eco-Friendly USB drives available?
Yes! Here at Premium USB we offer several Eco-Friendly USB drives. Our Eco-drives are either made from wood, bamboo, or other recycled materials.
What Capacities are available?
Our standard Custom Flash Drive capacities range from 128MB to 8GB. However it is possible to get higher capacities upon request!
Can I get custom Colors?
Custom colors are available for Custom USB drives, but the range of colors may be limited depending on the material. Hard plastics or PVC plastics can be custom made into any color, but materials such as metals, leathers, or woods cannot. This is because the color of the drive is dependent on what the manufacturer or nature can produce.
Can you make Custom Shaped USBs?
We can make Custom Shaped USB drives into almost anything your imagination can come up with. Various materials, capacities, and printing options are available.
Why pick Custom Shaped over Standard Custom Drives?
Custom Shaped USB drives offer a much higher degree of customization than standard custom flash drives. Besides some material choices and color, Custom shaped drives have no limits. Custom shaped drives can come in any shape, size, color, and capacity. If you can think of it, we can make it!
Are there any Hidden Charges?
At Premium USB there are no hidden charges. Some setup fees may apply, depending on the nature of the order, but we have made it company policy to inform our customers exactly where every penny they spend goes.