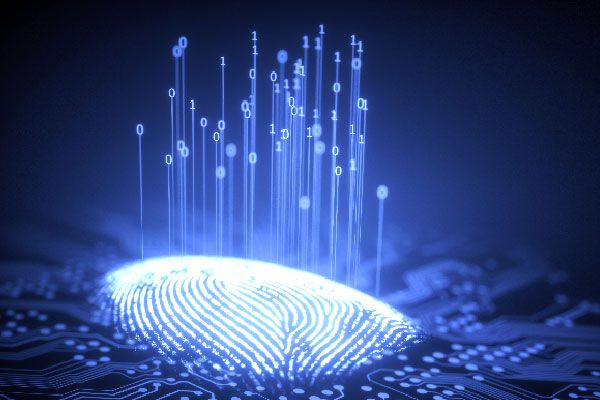 Samsung Now Offers SSD Card That Locks with a Fingerprint
SSD (solid state drives) are excellent secondary storage options that are, like any other storage device, at risk for data theft or loss. This is because they're so portable and despite how often they contain large amounts of sensitive data, they're often just thrown into a computer or book bag. This is probably why Samsung has added a new biometric option to its SSD collection with the T7 Touch with fingerprint lock, named an Innovation Awards honoree at CES2020.
What is Biometric Authentication and Identification?
Biometric authentication and identification are slowly seeping into the tech market as secondary two factor authentication methods, which are attractive for their difficult to break or copy authentication process. The T7 Touch's fingerprint lock mechanism compares your fingerprint with a template and unlocks depending on the match. The idea is that, as no two fingerprints are alike, no one else should be able to break into your drive without some serious tech sorcery. Also, not having to remember a pin or password is a relief. You access your data based on who you are. Biometrics are attractive options because they offer access based on unique, personal, and permanent characteristics like your face or fingerprint.
Unfortunately, like most technology, there is that pesky growth period where the technique needs some streamlining and testing. Software can fail or be by passed with some clever logistical snafus. Biometric authentication is a hot button subject regarding its ethical, moral, and philosophical conundrums. However, the personal tech market does not seem to be shying away as of yet.
Biometric Fingerprint USB Flash Drives
There has been some movement for fingerprint authentication for USB drives, SSDs sportier and more commonly seen cousin. We talk about the differences and similarities between flash drives and SSDs here. At the moment, you can select from a few different brands of USB drive on Amazon for an affordable price, less than $60 but none of them are from major OEMs like Samsung or SanDisk. We talk more about fingerprint USB drives here.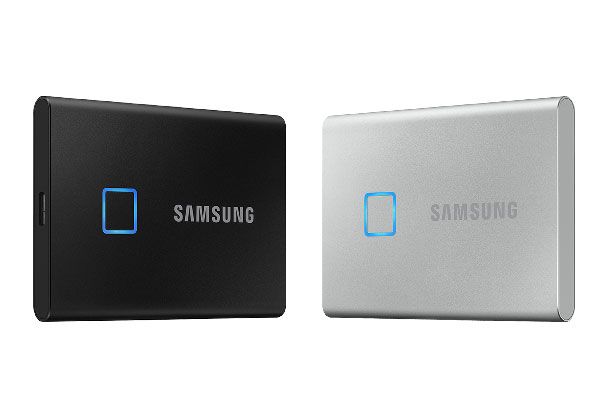 The Samsung T7 Touch
The T7 is an impressive SSD in its own right. It boasts not only the built in fingerprint scanner but also includes password protection and AES 256-bit hardware encryption. It holds a huge amount of data—2TB. It is quite light, weighing only about as much as two AA batteries (58 grams) and sports a sleek titanium case in either silver or black. There is also a handy motion LED to check on device status. It is significantly faster than the T5, its predecessor, which was already ranked consistently one of the best SSDs available. Its read speed is 1,050MB/s and write speed of 1,000MB/s doubles the T5s stats.
The T7 also comes with USB C-to-C and USB C-to-A cables, includes a three year warranty, and is compatible with Windows, Mac, and Android operating systems.
The Samsung T7 Touch is available now in over 30 countries. Suggested retail price for the 500GB version starts at $129, 1TB for $229, and the 2TB version will set you back at least $399.