Product Details
Printing: FREE 4–Color Printing (FREE 1–Color 2nd Location)
Shipping: FREE Ground Shipping
Material: Plastic
Drive Colors:
Features: Lightning and USB connectors, Caps on either end, Mobile storage
Turn Times: Standard in 14 Business Days.
If you have a target customer base that love Apple products, then they'll love the iFlash 2 in 1 Lightning to USB 3.0 drive! This promotional USB drive is perfect for additional data back up on the go and advertising your company! Combining value, marketing know-how, and practical use, the iFlash 2 in 1 works as a hard drive for Apple products. Your custom logo will be printed right on the drive case in pristine colors and lines that will do your brand justice. With a limited lifetime warranty, up to 10 years of data retention, and a shock resistance capability of 1,000G, this promotional gadget is worth the investment!
Imprint Options
Product Size: 57mm x 25mm x 8mm
Print Types: 4-Color Printing
Imprint Location: Clip - Front & Back
Imprint Size: 18mm x 15mm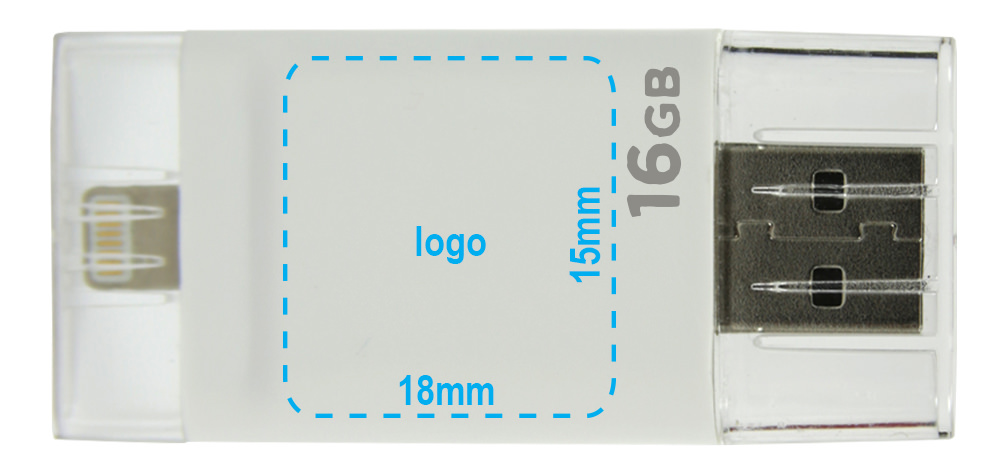 Specifications
Interface Options: Hi-Speed USB 3.0, 2.0 And 1.1
Compatibility: PC/MAC/LINUX compatible
Operating Systems: Windows and Mac
Driver: Required only for Windows 98/95
Shock Resistance: 1,000G
Data Retention: Up to 10 years
Warranty: Limited Lifetime Warranty
Time To Order
Before You Order Checklist