Product Details
Printing: FREE 4–Color Printing or Laser Engraving (FREE 1–Color 2nd Location)
Data: FREE Data Preloading

(up to 100MB)

Shipping: FREE Ground Shipping
Material: Metal
Drive Colors:
Features: Slide USB
Turn Times: Standard in 10 Business Days.

Embrace the rugged, patriotic Military Dog Tag promotional flash drive and watch your sales numbers climb. This custom USB drive is perfect for military affiliated companies or companies looking to appeal to that dynamic. These dog tags are masculine and offer either 4 color printing or laser engraving to emblazon the shiny metallic body. The USB port is easily accessible using a slide mechanism, and the drive body (which is the tag) fits nicely in hand during use. The drive ranges from 512MB to a 32GB data storage capacity, it's up to you to decide what your clients and customers need.
Imprint Options
Product Size: 50mm x 30mm x 4mm
Print Types: 4-Color Printing or Laser Engraving

(Laser Engraving Standard turn time only)

Imprint Location: Front & Back
Imprint Size: 37.8mm x 21.3mm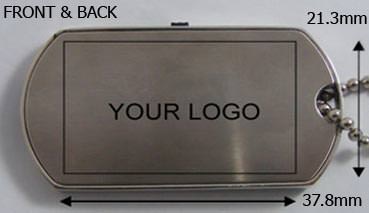 Specifications
Interface Options: Hi-Speed USB 2.0, Standard USB 1.1
Compatibility: PC/MAC/LINUX compatible
Operating Systems: Windows and Mac
Driver: Required only for Windows 98/95
Shock Resistance: 1,000G
Data Retention: Up to 10 years
Warranty: Limited Lifetime Warranty
Time To Order
Before You Order Checklist