Choose USB Speed

Premium USB's SuperSpeed 3.0 Drives offer efficient data transfers - 10 times faster than 2.0 Drives! For maximum efficiency, use USB 3.0 Drives with computers that feature blue PCB ports, specifically designed for USB 3.0.
(USB 3.0 drives start at 8GB)
Product Details
Printing: FREE Silkscreen (FREE 1–Color 2nd Location)
Data: FREE Data Preloading

(up to 100MB)

Shipping: FREE Ground Shipping
Material: Plastic
Drive Colors:
Features: Pull out Flash Drive
Turn Times: Standard in 10 Business Days

Kick it old school with our Mix Tape Custom USB Drive! This cassette-shaped drive has got the power and precision to store all your biggest hits, With storage capacities ranging from 128MB to 32GB, the custom Mix Tape can handle all your documents, music, pictures, videos, presentations, multimedia, and other files. This uniquely shaped USB is made out of hardy plastic and has a retractable USB drive inside it for easy access to your drive. The Mix Tape comes with a Free 4-Color Silkscreen so you can get your logo or personal logo logo on it, looking as bold as the label on a creal music cassette! The customizable Mix Tape comes with a shock resistance of 1,000G, up to 10 years of data retention, and a limited lifetime warranty. This branded flash drive is compatible with PC, Mac, and Linux.
The Mix Tape comes with FREE shipping as well as a Free 4-Color Silkscreen. With its funky, eye-catching design, the Mix Tape is a great way to showcase your logo and make a lasting impression. After all: Who doesn't like getting a mix tape?
Imprint Options
Product Size: 1mm x 63mm x 12mm
Print Types: FREE Silkscreen
Imprint Location: Front & Back
Imprint Size: 70mm x 13mm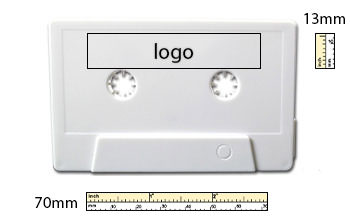 Specifications
Interface Options: Hi-Speed USB 3.0, 2.0 And 1.1
Compatibility: PC/MAC/LINUX compatible
Operating System:s Windows and Mac
Driver: Required only for Windows 98/95
Shock Resistance: 1,000G
Data Retention: Up to 10 years
Warranty: Limited Lifetime Warranty
Time To Order
Before You Order Checklist