Choose USB Speed

Premium USB's SuperSpeed 3.0 Drives offer efficient data transfers - 10 times faster than 2.0 Drives! For maximum efficiency, use USB 3.0 Drives with computers that feature blue PCB ports, specifically designed for USB 3.0.
(USB 3.0 drives start at 8GB)
Product Details
Printing: FREE 4–Color Printing (FREE 1–Color 2nd Location) or Laser Engraving
Data: FREE Data Preloading

(up to 100MB)

Shipping: FREE Ground Shipping
Material: Paper, Recycled Wood
Drive Colors:
Features: Magnetic Cap
Turn Times: Express in 1-3 Business Days, Standard in 10 Business Days.

Sustainability is sexy, and that sells! The Recycler Curve is an innovative take on the promotional USB drive using sustainable materials, specifically recycled wood. This product helps the environment and you! The Recycler Curve is a statement piece that demonstrates your company's responsibility and concern for the world—a good look for a company to have in the eyes of their customers. These promotional flash drives come with an aesthetically pleasing shape that feels good in the hand and also offer high value printing space for your custom printed logo. The port connector is protected by a matching cap and provides a seamless overall look. It also comes in either USB 2.0 or 3.0 speeds and a wide range of data capacity options which lets you customize your order the way you want.
Imprint Options
Product Size: 9.5mm x 61mm x 28.5mm
Print Types: 4-Color Printing or Laser Engraving
Imprint Location: Front & Back
Imprint Size: 35mm x 20mm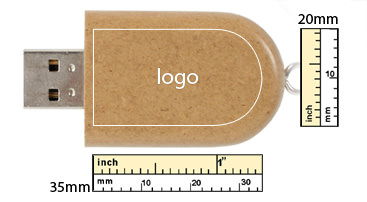 Specifications
Interface Options: Hi-Speed USB 3.0, 2.0 And 1.1
Compatibility: PC/MAC/LINUX compatible
Operating System:s Windows and Mac
Driver: Required only for Windows 98/95
Shock Resistance: 1,000G
Data Retention: Up to 10 years
Warranty: Limited Lifetime Warranty
Time To Order
Before You Order Checklist