Product Details
Printing: FREE 4-Color Epoxy Dome Printing
Data: FREE Data Preloading

(up to 100MB)

Shipping: FREE Ground Shipping
Material: Solid Plastic Body with Steel Cover
Drive Colors:
Features: LED Indicator, Capless, Swivel Design
Turn Times: Express in 1-7 Business Days, Standard in 10 Business Days.

They often say that sequels can't compare to the original, but that isn't the case with this custom USB! People loved our Revolution USB Drive so much that we had to give them a sequel. The only question was: Could it be as good as the original? The answer: It's got everything that you love about the Revolution drive, but with a little something extra! The Sequel is a capless flash drive that comes in a solid plastic body with a rotating metal swivel cover. It's topped off with a durable epoxy dome to give your logos and artwork a spotlight to shine in. It's available in a variety of different Pantone colors, each of which are bold and eye-catching. The Hi-Speed drive comes with a shock resistance of 1,000G, up to 10 years of data retention, and a limited lifetime warranty. The Sequel is compatible with PC, Mac, and Linux. It has storage capacities ranging from 128MB to 32GB, perfect for storing your documents, pictures, music, videos, multimedia, presentations, and other important files. Each Sequel also comes with an LED indicator light that lets you know when it's powered on or busy.
Order the Sequel USB Drive with free shipping and it will arrive in 10 business days. It's also available via Express and 24 Hour shipping. The Sequel comes with FREE 4-Color Epoxy Dome Printing.
Imprint Options
Product Size: 54mm x 19mm x 10mm
Print Types: 4-Color Epoxy Dome Printing
Imprint Location: Clip - Front & back
Imprint Size: 39mm x 13.5mm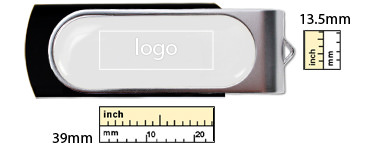 Specifications
Interface Options: Hi-Speed USB 3.0, 2.0 And 1.1
Compatibility: PC/MAC/LINUX compatible
Operating System:s Windows and Mac
Driver: Required only for Windows 98/95
Shock Resistance: 1,000G
Data Retention: Up to 10 years
Warranty: Limited Lifetime Warranty
Time To Order
Before You Order Checklist