Choose USB Speed

Premium USB's SuperSpeed 3.0 Drives offer efficient data transfers - 10 times faster than 2.0 Drives! For maximum efficiency, use USB 3.0 Drives with computers that feature blue PCB ports, specifically designed for USB 3.0.
(USB 3.0 drives start at 8GB)
Product Details
Printing: FREE Silkscreen (FREE 1–Color 2nd Location) or Laser Engraving
Data: FREE Data Preloading

(up to 100MB)

Shipping: FREE Ground Shipping
Material: Plastic Body, Aluminum Surface
Drive Colors:
Features: LED Indicator, Key Loop
Turn Times: Standard in 7 Business Days

Our Standard USB drive is just that: a highly recognizable drive designed for that utilitarian purpose . This drive is an all around performer when it comes to data storage. It's the perfect drive to stow away your documents, pictures, videos, presentations, multi media, music, and other important files. The Hi-Speed USB drive comes with a shock resistance of 1,000G, up to 10 years of data retention, and a limited lifetime warranty. The Standard is encased in a plastic body (available in red, black, green, or blue) with an appealing aluminum surface. The Standard has an LED indicator light and a built-in key loop, making it a breeze to latch onto key rings, belt loops, laptop bags, and anywhere else you want to your USB close to.
Order the Standard with our FREE shipping and it should come within 7 business days. It also comes with a Free 4-Color Silkscreen or laser engraving, so you can customize it with your company logo or personal brand.
Imprint Options
Product Size: 67mm x 21mm x 8mm
Print Types: FREE Silkscreen, Laser Engraving
Imprint Location: Front & Back
Imprint Size: 30mm x 15mm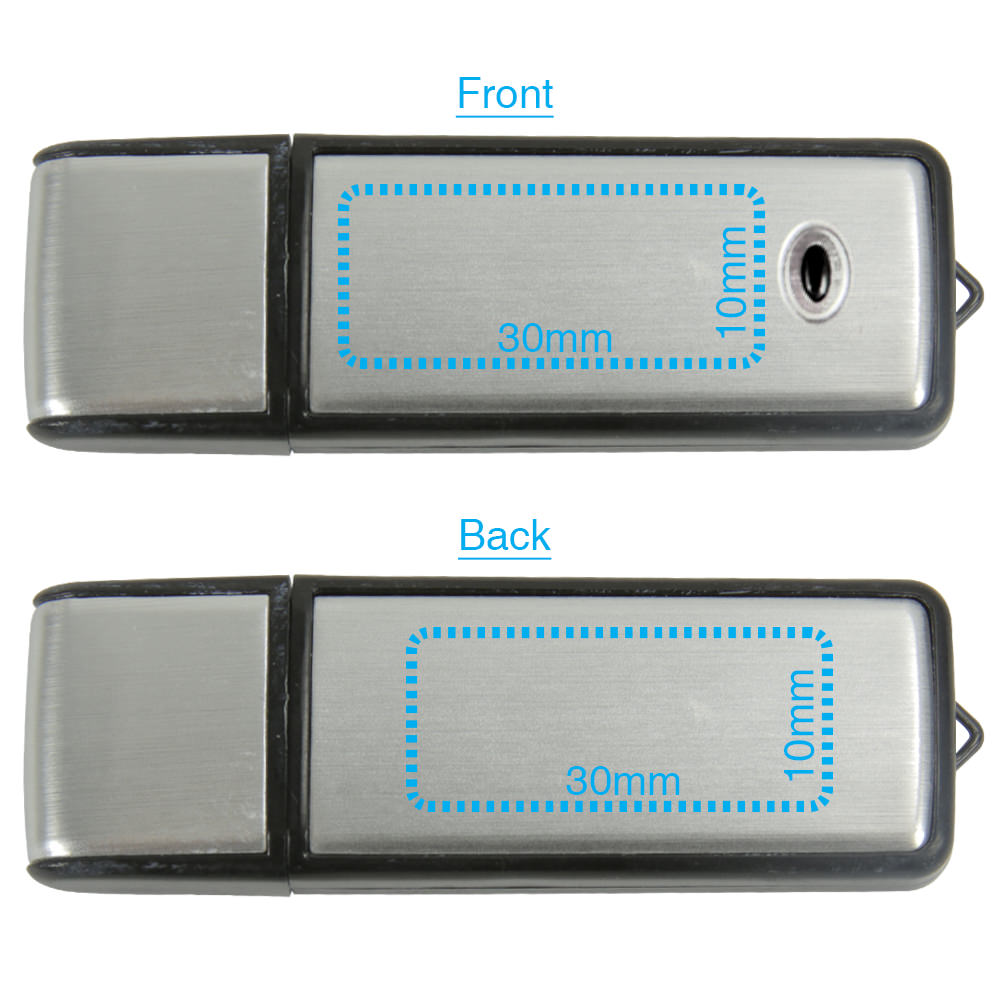 Specifications
Interface Options: Hi-Speed USB 3.0, 2.0 And 1.1
Compatibility: PC/MAC/LINUX compatible
Operating System:s Windows and Mac
Driver: Required only for Windows 98/95
Shock Resistance: 1,000G
Data Retention: Up to 10 years
Warranty: Limited Lifetime Warranty
Time To Order
Before You Order Checklist