Choose USB Speed

Premium USB's SuperSpeed 3.0 Drives offer efficient data transfers - 10 times faster than 2.0 Drives! For maximum efficiency, use USB 3.0 Drives with computers that feature blue PCB ports, specifically designed for USB 3.0.
(USB 3.0 drives start at 8GB)
Product Details
Printing: FREE Silkscreen (FREE 1–Color 2nd Location)
Data: FREE Data Preloading

(up to 100MB)

Shipping: FREE Ground Shipping
Material: Soft PVC
Drive Colors:
Features: No-Lose Cap, Wearable
Turn Times: Standard in 10 Business Days

You never know when you'll need your data when you're on the move. Wouldn't you like to have a USB that you can take with you everywhere, even while doing rugged outdoor activities, just in case you need it? You're in luck: The Traveler Wristband USB Flash Drive is designed to be your go-to USB when you're on the go. The stylish bracelet comes in a variety of different colors. The wristband is made out of a soft, comfortable PVC that will protect your USB and hold up well against wear and tear. It comes with a no-lose cap, so you don't have to worry about losing track of it. The Hi-Speed USB inside the wristband is PC, Mac, and Linux compatible. It has a shock resistance of 1,000G, up to 10 years of data retention, and comes with a limited lifetime warranty. A driver is required only for Windows 98/95.
The Traveler Wristband is customizable with your logo. Personalize this wristband and show it off to the world! With the free shipping and fast turn times, you'll be wearing your wristbands in no time. And don't just get them for yourself: These wristbands make for great promotional gifts and giveaways!
Imprint Options
Product Size: Approx. 210mm x 19mm
Print Types: FREE Silkscreen
Imprint Location: Front
Imprint Size: 20mm x 10mm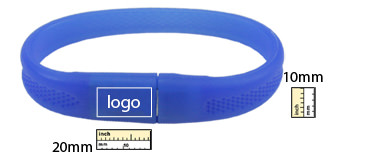 Specifications
Interface Options: Hi-Speed USB 3.0, 2.0 And 1.1
Compatibility: PC/MAC/LINUX compatible
Operating System:s Windows and Mac
Driver: Required only for Windows 98/95
Shock Resistance: 1,000G
Data Retention: Up to 10 years
Warranty: Limited Lifetime Warranty
Time To Order
Before You Order Checklist